News
---
Jamaica to Host 2018 CAJGC
March 10, 2018
The Caribbean Amateur Junior Golf Championships (CAJGC) is the premier golfing event for junior golfers in the Caribbean.
In 2018, the 31st staging of the event will be hosted by the Jamaica Golf Association at the Caymanas Golf and Country Club and the Jamaica Pegasus Hotel from July 2 – 7, 2018. This event will showcase the best junior golfers competing for the Hank James Team Trophy along with other individual prizes.
Jamaica hosted the CAJGC in 2009, and it was regarded as one of the best events for this tournament by participants.
The four day event caters to juniors from 8 Caribbean Countries (Dominican Republic, Puerto Rico, Trinidad, Bahamas, Cayman, USVI, Barbados, and Jamaica). The age range for participation is from ages 11 – 18 and 75-100 players are expected to participate. We also estimate that approximately 150 accompanying persons – delegates, coaches and parents, are expected to travel with the juniors to the event.
---
The Opening Tee Shot at this Year's Ryder Cup is Absolutely Terrifying
By Jeff Ritter, Golf.com
March 09, 2018
The Ryder Cup is one of golf's biggest, baddest events, and the first tee is known to rattle the nerves of even the world's best. This fall in Paris, competitors will face perhaps the most terrifying opening shot in the event's history.
Plans for the opening-tee bleachers have been unveiled, and — sacré bleu! — they are immense. The blueprint calls for a whopping 6,648 seats in the opening-tee complex. For comparison, the 2016 Hazeltine Ryder Cup had 1,668 seats at the 1st tee; the 2014 Ryder Cup at Gleneagles had 2,148. Fans at the opener will also have a view of the 18th green, so the bleachers should get plenty of action from start to finish.
"The Ryder Cup is one of most popular and premiere sporting events around," said Ryder Cup Match Director Edward Kitson. "Every two years we look to bring something new to the event on-site and reward the hundreds of thousands of fans who travel to support the teams.
"The first tee is major part of that focus and we're very excited to introduce fans to what will be the biggest single grandstand ever seen at the Ryder Cup. There's no doubt the atmosphere will be incredible."
A first look at what the first tee will look like at the 2018 #RyderCup in Paris pic.twitter.com/c1Be8vmIr8

— Ryder Cup Europe (@RyderCupEurope) March 8, 2018
---
The 2018 BGA Trophy
March 1, 2018
The BGA announces the 2018 BGA Trophy to be held at the Barbados Golf Club on Saturday March 10. This is our first event for the year since the Hamper at Rockley was rained out.
We again welcome all of you to fully participate in the BGA-sponsored tournaments this year as we look to improve on what we offered last year and fulfill the mandates of the BGA.
See attached flyer for more details; for your convenience, you can respond to bga@caribsurf.com to enter and if necessary include either an early or late start. For those players entering the T&T Open, this is a great warmup to what you will face there.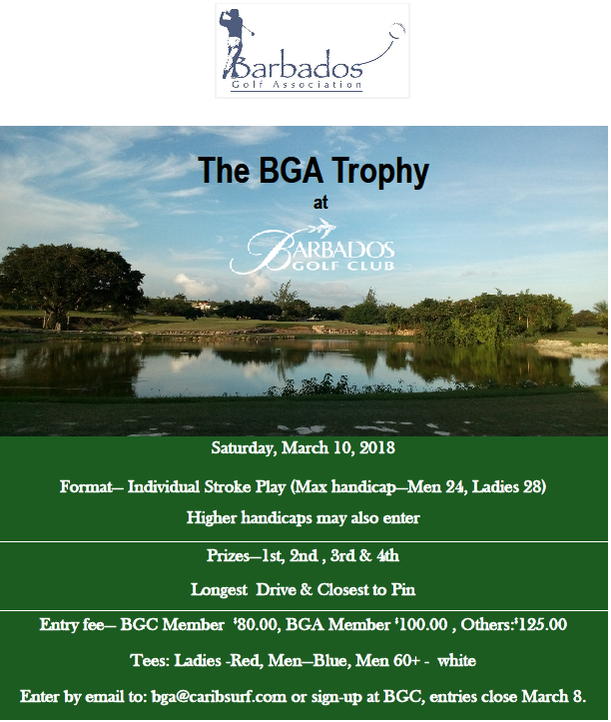 ---
Growh Opportunity Identified for Golf
A significant growth opportunity exists for golf if it can attract more women, girls and families into playing the sport more often according to a new research report published by The R&A.
Download the executive summary and full report
Falling numbers
Many countries are seeing a fall in the number of both males and females playing golf and the research report analyses the factors which affect whole family participation in the sport, including women and girls, and details a number of useful practical recommendations for national golf bodies and golf clubs to help them encourage more women and girls to play.
The R&A commissioned the International Institute for Golf Education, based at the University Centre Myerscough, to carry out the research which brings together the findings of existing academic and industry research with the individual views of a wide-ranging group of golf experts.
Key themes
The key themes identified in the report, which was produced by Dr John Fry and Philip Hall, include:
The importance of establishing the optimum environment for family participation by being aware of the make-up of the modern family

A direct link between equality in sports participation and wider measures of gender equality such as women in influential decision-making positions in golf

That parents are the chief factor underpinning families' likelihood to play golf and that their motivations for their children taking part include having fun, improving health and developing friendships

The increasing desire for golf to provide opportunities for socialising and to be adaptable and flexible given the time and cost constraints placed on the modern family

The need for the sport to evolve to meet the demands of contemporary society and for clubs to encourage memorable events for their customers, as that memory itself or the 'experience', is increasingly replacing the 'product' of playing golf

The research reflects The R&A's continued drive to encourage more women, girls and families to play golf more regularly, working with its affiliates around the world to enhance golf's appeal.
Opportunity for Golf
Martin Slumbers, Chief Executive of The R&A, said, "The research demonstrates there is a tremendous opportunity for golf to grow its participation numbers and generate more income if it can attract more women, girls and families into playing the sport.
"We know that more work needs to be done to achieve this outcome at a time when there are concerns about declining participation levels and this report provides useful actions and guidance for our affiliates and clubs that can lead to tangible, positive outcomes for golf."
Research
Dr John Fry, added, "The report brings together for the first time in one place the key academic and industry research articles conducted on family sports participation.
"The process involved searching scientific databases containing more than one million citations, peer-reviewed research papers and selecting the most appropriate evidence based studies that can help underpin strategies to increase participation in golf.
"The research is supplemented with case studies of best practice, analysis from a number of industry experts and offers a series of practical actions which golf clubs can adopt."
---
Golf's New World Handicap System Designrf to Welcome More Golfers
USGA STORY, 20 February 2018:
The way golfers around the world will calculate their handicaps is set to be transformed by a new system developed by The R&A and the USGA, with key features designed to provide all golfers with a consistent measure of playing ability.
The new World Handicap System, to be implemented in 2020, follows an extensive review of systems administered by six existing handicapping authorities: Golf Australia, the Council of National Golf Unions (CONGU) in Great Britain and Ireland, the European Golf Association (EGA), the South African Golf Association (SAGA), the Argentine Golf Association (AAG) and the USGA.
​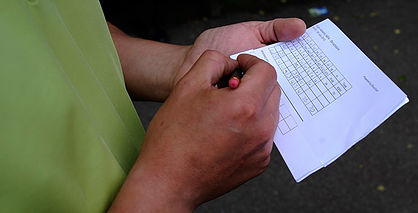 The new system will feature the following:
- Flexibility in formats of play, allowing both competitive and recreational rounds to count for handicap purposes and ensuring that a golfer's handicap is more reflective of potential ability
- A minimal number of scores needed to obtain a new handicap; a recommendation that the number of scores needed to obtain a new handicap be 54 holes from any combination of 18-hole and 9-hole rounds, but with some discretion available for national or regional associations to set a different minimum within their own jurisdiction
- A consistent handicap that is portable from course to course and country to country through worldwide use of the USGA Course and Slope Rating System, already successfully used in more than 80 countries
- An average-based calculation of a handicap, taken from the best eight out of the last 20 scores and factoring in memory of demonstrated ability for better responsiveness and control
- A calculation that considers the impact that abnormal course and weather conditions might have on a player's performance each day
- Daily handicap revisions, taking account of the course and weather conditions calculation
- A limit of Net Double Bogey on the maximum hole score (for handicapping purposes only)
- A maximum handicap limit of 54.0, regardless of gender, to encourage more golfers to measure and track their performance to increase their enjoyment of the game
​
Quantitative research was conducted in 15 countries around the world, through which 76 percent of the 52,000 respondents voiced their support for a World Handicap System, 22 percent were willing to consider its benefits, and only 2 percent were opposed. This was followed by a series of focus groups, in which more than 300 golf administrators and golfers from regions around the world offered extensive feedback on the features of the proposed new system.
​
This feedback has helped shape the WHS, which has been developed by The R&A and the USGA with support from each existing handicapping authority as well as the Japan Golf Association and Golf Canada.
​
Martin Slumbers, Chief Executive of The R&A, said, "We are working with our partners and national associations to make golf more modern, more accessible and more enjoyable as a sport and the new World Handicap System represents a huge opportunity in this regard.
​
"We want to make it more attractive to golfers to obtain a handicap and strip away some of the complexity and variation which can be off-putting for newcomers. Having a handicap, which is easier to understand and is truly portable around the world, can make golf much more enjoyable and is one of the unique selling points of our sport."
Mike Davis, CEO of the USGA, commented, "For some time, we've heard golfers say, 'I'm not good enough to have a handicap,' or 'I don't play enough to have a handicap.' We want to make the right decisions now to encourage a more welcoming and social game. We're excited to be taking another important step – along with modernising golf's Rules – to provide a pathway into the sport, making golf easier to understand and more approachable and enjoyable for everyone to play."
​
The tenets of the new system focus on three main objectives: to encourage as many golfers as possible to obtain and maintain a handicap; to enable golfers of differing abilities, genders and nationalities to transport their handicap to any course globally and compete on a fair basis; and to indicate with sufficient accuracy the score a golfer is reasonably capable of achieving on any course around the world, playing under normal conditions.
Given worldwide alignment towards a single system, all parties will now embark on a two-year transition period targeting implementation in 2020. When adopted, the World Handicap System will be governed by The R&A and the USGA and administered by national and regional associations around the world, with safeguards included to ensure consistency as well as adaptability to differing golf cultures.
​
The existing six handicapping authorities represent approximately 15 million golfers in 80 countries who currently maintain a golf handicap.
​
The announcement is the latest step in a multi-year collaboration between The R&A and the USGA, as well as national and regional golf associations around the world to introduce one set of Rules of Handicapping, aimed to support modernising, growing and improving accessibility of the sport.
​
As an extension of their support of the Rules of Golf worldwide, Rolex has made a commitment to support The R&A's and the USGA's efforts to implement a World Handicap System. The Swiss watchmaker's contribution to excellence in golf is based on a rich heritage stretching back more than 50 years, forged through pivotal partnerships at every level of the game, from the sport's leading professional and amateur competitions and organisations, to players at the pinnacle of their sport worldwide.
​
To provide feedback on the new World Handicap System or for more information, visit www.randa.org. Golfers are encouraged to follow and join in the conversation on social media by using #golfwhs2020.
---
Maria Torres survives hurricane, becomes first woman from Puerto Rico to get LPGA card
by Keely Levins - Golf Digest - December 3, 2017
Before the final stage of LPGA Qualifying School, Maria Torres of Puerto Rico said she wouldn't turn pro unless she finished in the top 20. The top 20 finishers earn full membership while those finishing 21st to 45th receive only conditional status. After the final 18 holes of the grueling 90-hole final stage in Daytona Beach, Fla., the recent University of Florida grad had hit it right on the number, coming in 20th, with a five-day total of two-under 358. The only catch -- two other players were at 358. It took a three hole playoff, but Torres persevered and won to claim the 20th spot.
Steve WoltmannSUGAR GROVE, IL - MAY 22: Maria Torres of Florida in action during the Division I Women's Golf Individual Championship held at Rich Harvest Farms on May 22, 2017 in Sugar Grove, Illinois. (Photo by Steve Woltmann/NCAA Photos via Getty Images)
Grabbing that last available tour card would be an accomplishment for any player, but it was especially special for Torres. By doing so, she became the first woman from Puerto Rico to get a full LPGA Tour card.
The accomplishment is even more impressive given what Torres has been through in recent months. She lives in Trujillo Alto, Puerto Rico and was there when Hurricane Maria hit in September. Like the majority of people on the island, her family lost power. In the days following the storm, there was no Internet connection in Torres' home, and she had to get online to submit her payment for the second stage of Q School. She managed to find a signal at a restaurant and sign up for the second stage.
The next problem was getting her game ready for it, a challenging proposition given the suffering many experienced in the country. Before Torres' situation at home and with her family stabilized, she practiced in a park near her home as the local golf course was destroyed in the storm. Eventually, she went to Florida to practice before competing in the second stage of Q school, where she finished T-15 to move on to the final stage.
"I know people are struggling back home, but what I can do is do my job here for my family because they've sacrificed to allow me to be here to play golf," Torres told the LPGA.
With opening rounds of 73-71-70-70, Torres needed to hold steady in the fifth round. A closing 74 on the Jones Course at LPGA International didn't come without a little nervousness, but when she finished in 20th spot—10 strokes back of medalist Nasa Hataoka of Japan—it was good enough. Torres was one of two amateurs, along with Robynn Ree, to get their cards for 2018. In order to accept it, both players had to announce they were turning pro shortly after the finish.
Notable among the other 19 players to get full LPGA Tour cards was Georgia Hall, the 21-year-old Englishwoman who finished T-3 in the 2017 Ricoh Women's British Open and competed in the 2017 Solheim Cup, finishing with a 2-3-0 record. Hall and Torres are among nine Q school grads who'll be rookies on the LPGA Tour in 2018, a list that also includes: Tiffany Chan, Rebecca Artis, Luna Sobron Galmes, Ree, Lauren Coughlin, Kassidy Teare and Gemma Dryburg.
---
61st Caribbean Amateur Golf Championships Awards Ceremony
August 1 - 4, 2017
The Links, Casa de Campo, Dominican Republic
The original practice green served as the venue for the closing ceremony which started at approximately 3:30pm with a welcome by the Master of Ceremonies. Remarks were also made by Asraph Ali, President - CGA and followed by the presentation of team photographs to the team managers by Carlos Elmudesi, Vice-President - CGA.
Remarks were made by Nicholas Vargas, Dominican Republic Commissioner of Golf, followed by the presentation of prizes by Trenton Weekes, Secretary - CGA. Closing remarks were made by Rafael Villalona, Fedogolf President and the usual handover formalities were done between Cesar Rivera and Bob Slatter, host of the 2018 CAGC in Cayman Islands.
AWARDS
Ladies GEORGE TEALE MEMORIAL TROPHY
Winners: Valeria Pacheco, Kristina Ortiz, Yudika Rodriguez, Maria Torres – Puerto Rico
Runners-Up: Gabriela Victoria, Maria Sanchez, Karina Sanchez, Yae Eun Kim - Dominican Republic
Lowest Individual Score: Maria Torres - Puerto Rico with 292
Men HOERMAN CUP
Winners: Juan Campusano, Lucas Hernandez, Rodrigo Sanchez, Enrique Valverde, Rhadames Pena, Juan Jose Guerra - Dominican Republic
Runners-Up: Robert Calvesbert, Brandon Bueno, Andres Aranguren, Max Alverio, Erick Morales, Jeronimo Estevez – Puerto Rico
Lowest Individual Score: Juan Campusano - Dominican Republic with 282, Jeronimo Estevez - Puerto Rico with 282
Overall Team THE ARTHUR ZIADIE TROPHY
Winning Team: Puerto Rico
Runners-up: Dominican Republic
---
30th Caribbean Amateur Junior Golf Championships Awards
July 2 – 7, 2017
St. Andrews Golf Club, Moka, Trinidad & Tobago
The upper deck of the Clubhouse served as the venue for the ceremony due to the uncertainty in the weather conditions. The ceremony started with opening remarks at approximately 5:15 pm from Vidia Ramphal as MC.
Remarks were also made by Asraph Ali, President of the CGA and Clyde Abder, President of the TTGA. Trenton Weekes, CGA Secretary announced the prize winners and called on the persons from the award providers to present the trophies.
Sachin Kumar and Valeria Pacheco received the Championship awards in the 18 & under boys and girls divisions respectively.
The Izzy Marley award for sportsmanship was presented by Eryn Blakeley sister of Izzy to Ryan Peters of Trinidad & Tobago.
Puerto Rico won the Hank James Trophy with 145 points, Asraph Ali, Clyde Abder, the Minister of Sport & Youth Affairs and Brian Rambaran, Project Officer of Republic Bank presented the team with the trophy. The Dominican Republic and Trinidad & Tobago tied as runners-up with 117 points.
---
2017 Caribbean Golf Classic Winners
May 3-7, 2017
Punta Cana, Dominican Republic
Individual Winners
FLIGHT NO. LADIES MEN
7TH 1st Margerith Wolterstoff 66 1st Johanes Pretorius 82
6TH 1st Carmelita Blankevoort 70 1st Zane Berry 82
5TH 1st Michelle Berry 85 1st Greg O'Driscoll 123
4TH 1st Alison Reid 101 1st Haydn Imam 116
3RD 1st Heather Hardy 98 1st Richard Martinez 144
2ND 1st Mae Menzies 120 1st Wilton Williamson 141
1ST 1st Andrew Jarvis 153
Team Trophies
TEAM OVERALL - LADIES
Jodi Munn Barrow Trophy
J A M A I C A
TEAM OVERALL - MEN
Robert Grell Trophy
P U E R T O R I C O
TEAM OVERALL MEN & LADIES
George Noon
T R I N I D A D & T O B A G O